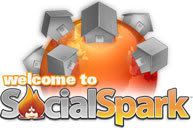 SocialSpark is here...and is open for business! For people like me who want to earn money while sitting in the comfort of their home,this is a boon. And the best part is you can earn as much as you would in a regular 9 to 9 job. You can earn anywhere between 5 to 50$ or more per day!!
Social Spark is completely professional,you don't have to worry about security (online). The only pre-requisites are that you have to own a blog with atleast 10 articles posted per month(over a minimum period of two months), and a PayPal account to have your pay transferred into! Once you satisfy these two requirements ,all you have to do issubmit your blog,to be approved by SocialSpark. Once your blog is approved,you will be able to accept and reserve opportunities available on the site. Flexible timings make Social Spark even more convinient to use!! When you reserve an opportunity,you don't have to complete the job right away,you can take your time and complete it within twelve hours of you reserving the job! That is real flexible timing!!
Social Spark also follows a code of ethics-
100% Audit-able In-Post Disclosure - Each sponsored post opportunity within the SocialSpark marketplace provides the blogger a small snippet of code for a Disclosure Badge. The badge protects both you and the advertiser,providing an audit-able disclosure trail that exceeds compliance standards based on FTC and WOMMA guidelines.
100% Trasparency - Every participant is made viewable to the public. The public can also see which bloggers are working with which advertisers on which opportunities. This is designed to keep the community honest and open about what transactions occur.
100% Real Opinions- Subject to the specific agreement you form with an advertiser,you are free to write or say whatever you want . SocialSpark itself has no restrictions on howw you express your genuine thoughtson an advertiser's product or service.
100% Search Engine Friendly - Each sponsored link in SocialSpark automatically carries the "no-follow" attribute so as not to affect search engine rankiings. This is designed to protect bloggers and advertisers from search engine penalties based on paid linking.SocialSpark has a lot more to offer you,these you would get to know after signing up. Wish you luck on this new venture!!